//-------------------------------------------------------------------------------------------------- // Argus Website - Main Page // // Christophe.Briere@Deltares.NL, Irv.Elshoff@Deltares.NL // 23 jan 13 // $Id: argus.html 45 2019-10-02 14:02:41Z santinel $ // $Date: 2019-10-02 16:02:41 +0200 (Wed, 02 Oct 2019) $ // //-------------------------------------------------------------------------------------------------- ?>
Deltares coastal video monitoring
Video monitoring for coastal management and engineering
The use of video systems offer enhanced opportunities for the monitoring of morphodynamics of the nearshore zone.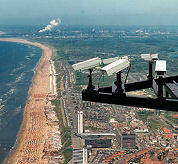 Covering space scales from less than a metre to several kilometres and time scales from seconds up to years, a wide range of coastal issues can be addressed, such as shoreline evolution, impact of groins and beach nourishments. As data collection is automatically performed by unmanned video stations, operation is cost-efficient, enabling the technique to be competitive to the traditional survey methods of beach bathymetry and shoreline. Complementary to Deltares ' modelling tools like the Delft-3D system, Deltares ' video techniques have been embedded as a monitoring tool in our consultancy practice.
Camera based bathymetry solutions at Deltares
For an official Argus licensed solution based on fixed camera observation points, OSU is the only party with the IP rights on Argus since 01-01-2019
Deltares does not compete with OSU for solutions technically identical to Argus, so for setting up a long term multi camera solution with automated pre-processing on site and off site post processing we refer to OSU.
Deltares has the knowledge to pre- and post- process optical wave video capture data to derive near shore bathymetry, as much as Argus does using cBathy, and Deltares deploys this knowledge mainly on the interpretation of the collected data. Deltares offers limited assistance in the setup of the camera systems, and will not provide the hardware.
In short. Deltares can be partner for the software. Deltares can provide smaller scale monitoring stations, like single camera solutions. But only for short monitoring periods (days) and as part of a training of the software algorithm. Deltares no longer offers a complete long term hardware solution. However Deltares can partner with a party supplying the hardware, but without taking the responsibility on the operational functioning of the hardware system. An ICT or a Telecom company is better suited for this job.
The same is true for radar image processing and remote earth observation. Deltares' main interest is in helping with software development for data analyses, and offering practical assistance in the assessment of hardware solutions.